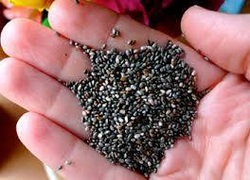 It's been a few years since the spotlight was turned on to Chia seeds, introducing them to the modern world as a "
super food
", and a lot more than what most had seen on those annoying "chia pet" TV commercials, which, by the way, were not "invented" in the USA. Sprouting chia on ceramic vessels is in fact, an ancient ornamental tradition…just another story of how traditions fall prey to commercialization…
Anyway,
we're here to focus on the many benefits of these little seeds…
Chia,
salvia hispanica,
is a plant from the mint family. Its origins date back to 3500 BC in Central America. The word "chia" comes from the Mayan word in meaning "strength".
It is believed that chia seeds were used by Maya messengers, who would carry a small pouch with them for long journeys as a source of energy and to increase their endurance.
The Aztecs also used chia seeds for their medicinal properties in treatments such as a saliva stimulant, as well as to alleviate joint pain and treat skin rashes.
Chia was a very important crop in Mexico and Guatemala, but soon after the conquest, the Spanish authorities banned it, because the indigenous peoples used them as part of their offerings during rituals. Chia crops were gradually replaced by more popular ones such as corn. It was not until 1991, that a project was launched in Mexico to recover the
forgotten crops
, among which chia was included.
Chia is a complete source of protein, with all the essential amino acids in a form that is easy to digest. It also has a high content of soluble fiber, and the seeds absorb liquids in as much as 9-12 times their weight. When in contact with liquids, they produce a natural gel that surrounds them.
Seeds stay fresh and perfectly edible during a long period of time due to their high content of antioxidants. They are easily kept in dry storage for up to 4 years without losing their flavour, freshness, or decreasing in nutritional properties; all these without the use of chemicals or preservatives.
Antioxidants in chia seeds help avoid the damage done by free radicals in the human body, as well as preventing premature aging of the skin, and tissue swelling.
Chia helps fight diabetes thanks to its capacity of slowing down the speed with which our bodies turn carbohydrates into simple sugars, controlling with this the levels of sugars in the blood.
Research work done with hens has proven that when fed chia, they produce eggs rich in Omega-3.
Chia seeds are on their own an excellent of Omega-3s. A single ounce of chia seeds packs in 4915mg of Omega 3 & 1620mg of Omega 6. They are also loaded with calcium (1oz=18% RDA) and manganese.
Traditional uses for chia seeds include adding them to "Aguas Frescas", refreshing fruit beverages. They are also a great addition to your favourite cold or hot cereals, baked goods, salads, on top of fruit, and are a great "thickener" for vegan puddings and other desserts, thanks to the unique gelatinous coating they create once they are in contact with any liquid.
With text translated from "Productos la Chinampa", an organization dedicated to promoting and selling traditional crops and artisan products, including free range dairy products, from the ecological reserve farmlands and waterways surrounding Mexico City - Cuemanco and Xochimilco, listed as a World Heritage site. Their mission is to restore the vitality of this region with traditional farming practices, free of pesticides and chemicals, while promoting fair trade with local small producers and farmers known as "Chinamperos" who grow their crops on the "chinampa" – a traditional Mesoamerican sustainable farming method which uses a small, rectangular area of fertile arable land to grow crops on the shallow lake beds
You can like their Facebook page here:
http://on.fb.me/1B5rUu9
Or visit their website (in Spanish) to learn more about their work:
www.delachinampa.mx