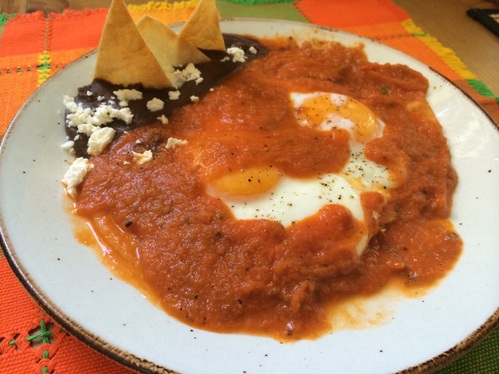 HUEVOS RANCHEROS
What better way to start the day after last night's "Mexican Independence" celebrations than with Huevos Rancheros?
Sadly, one of the many dishes that are too often misrepresented. But if we are picky about our Benny's having the perfect, velvety smooth Hollandaise sauce, there's no reason why we should settle for poorly executed Huevos Rancheros, right?

The name itself meaning "Rancher (style) Eggs", they represent country style comfort food.
As with many great recipes, they have few elements:

Eggs
Corn Tortillas
Salsa Ranchera - made with grilled tomatoes, onions, garlic, chiles - placing all ingredients in a blender - or using a mortar and pestle if you are feeling adventurous - and puree the salsa to a rustic, but smooth consistency.


They are truly quite easy to perfect, all you need is to follow a few simple steps that begin with quickly "passing" your corn tortillas through hot oil (ALWAYS
corn
tortillas, NEVER wheat flour tortillas). Not deep fried, just quickly
passed
through the oil. This is done to add texture to the tortillas, and to coat them, so that they don't get all soggy once we proceed to the next step, which is passing them through the warm Salsa Ranchera.
After that, simply place your sunny side up, or over easy eggs on top of the tortillas, cover with more salsa, add some refried beans o the side....LISTO! Your yummy Huevos Rancheros are ready to be enjoyed!
You can personalize your Huevos Rancheros with your choice of salsa - for instance for the Salsa Ranchera, some may add cilantro, or skip the garlic. My Dear Grandpa, loved a chopped salsa, with fresh tomatoes, lightly sauteed. For a twist, I love to use Mole, and call them "Huevos del Convento" or "Conventual Eggs". Or you can even use Salsa Verde (with tomatillos instead of red tomatoes) for one of the eggs, and Salsa Ranchera for the other, serve the beans between them, and you have "Huevos Divorciados" or "Divorced Eggs".

¡Buen Provecho!