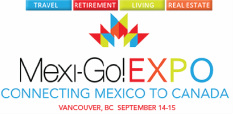 Our very own "Antojeria" will be "popping up" during Mexi-go EXPO at
the Roundhouse Community Centre September 14 & 15
"Antojitos"
is the name we use in Mexico to describe our traditional "small plates" – such as tostadas, tacos, quesadillas, and more! You can't miss this opportunity!
You can register
here
for complimentary passes to Mexi-Go Expo, and enter to win
a trip to Mexico for two!!
When: Saturday, September 14
10:00 am – 6:00 pm

Sunday, September 15
10:00 am – 5:00 pm
Where:Roundhouse Community Centre
297 Davie Street, Vancouver