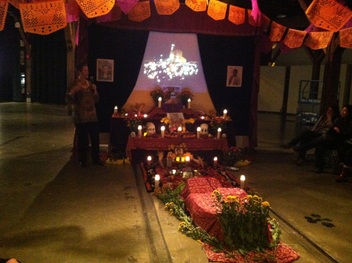 Every year, we look forward to celebrating one of our most vibrant, colourful traditions - the Day of the Dead. This year, we'll be setting our "Community Altar" at the Roundhouse Community Centre.
http://bit.ly/Hgj0Vx
Friday, November 1st - 5:30 - 8:00 pm
Admission is free, and guests will be invited to honour their loved ones in the Community altar. Pan de Muerto by the slice and Mexican Hot Chocolate will be available for sale.
On Saturday, November 2nd, we celebrate at the Museum of Anthropology -
http://bit.ly/1hnC95V
Saturday, November 2nd - 11:00 - 4:00 pm
Visit the community ofrendas in the Haida House, enjoy music, children's activities, a cultural presentation by Chef Rossana Ascencio & Alexandra Chancellor.
You can enjoy all the activities with museum admission.