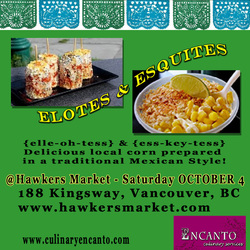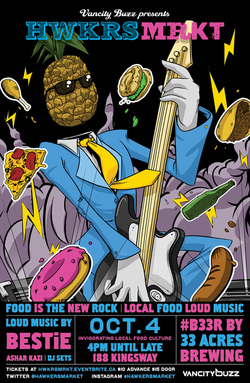 PLEASE NOTE - HAWKERS MARKET AND MADE FROM SCRATCH HAVE BEEN POSTPONED TO OCTOBER 4th and 5th RESPECTIVELY.
SPECIAL PROMO: HAWKERS WILL BUY THE FIRST BEER WITH YOUR TICKET!

BUY YOUR TICKETS HERE!
After a very busy Summer season, it is time for us to come back to what is becoming a popular destination for foodies in the city, and a great place for small business to promote their products and services. This weekend, we'll be at
#188 Kingsway
in Vancouver, for what promises to be a fantastic event!
First
,
Hawkers Market
on Saturday night! Starting at 4:00 pm, an incredible line up of local musical talent and DJ's, will set up the tone for a fun night while visitors enjoy a delicious array of fresh and prepared goodies!
We'll be selling
our traditional "Elotes and Esquites" the goodness of corn, prepared in a popular Mexican style that you won't be able to resist! (Imagine a combination of Queso Fresco & Chile Ancho, or Lime & Chile Ancho!) And if that wasn't enough, savour our very refreshing "Raspado de Cajeta"
a.k.a - Cajeta shaved Ice!

Then, on Sunday,
Made from Scratch
- an event for the entire family runs from 10:00am - 6:00pm, with live demo's, and more yummy food! You will be able to buy our
OMG ~ Original Mexican Gourmet Cajetas in all three flavours: Vanilla, with premium Mexican Vanilla beans, Espresso, with a unique coffee punch, & Rum, with 100% Bacardi White Rum!

Don't miss out! You can still get tickets here:

hwkrsmrkt.eventbrite.ca