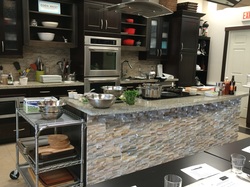 TACOS 101 - Everything you wanted to know about tacos!
What makes a taco?
Well... pretty much a tortilla wrapped around your favourite ingredient! There are literally hundreds of different types of tacos; some variations have been around since pre-columbian times, some, are more recent creations. Tacos are perhaps the meal that is more commonly related to Mexico and Mexican food. However, like with many other aspects of our culinary heritage, tacos are often misunderstood, and have fallen victim to "westernized" versions that are far from anything that any Mexican would call a Taco.
Join me at Eden West in Port Moody, in this TACOS 101, and you'll learn all about what makes a great taco. In fact, not one, but three different types of tacos:


* Tacos a la Plancha: or grilled tacos. For this variety, we'll savour the famos "Alambre", which literally means "wire", but it is more closely related to the use of the word which means "metal skewer"...Why? Join us, and find out!

* Tacos de Guisados - "Guisados" is a general term used to describe meals that are "quick stews". We'll be preparing the famous "Tinga de Pollo" and "Rajas con Crema". No need to google this terms... Join us, and find out!

* Tacos Dorados - "Golden brown tacos", for this variety, we'll prepare Tacos de Papa. Why are they called "golden brown tacos"?... Join us, and find out!

And because every great taco needs a great salsa....we'll be preparing four different types of salsas!

The best part of the night? This is a DEMO class!! Which means, you get to seat back, and ENJOY!!

Getting hungry? Can't wait to sign up? Give Eden West a call!
(604) 939-6200