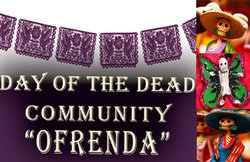 Join us as we keep our ancient traditions alive!
Saturday, November 1st 5:00 - 7:15pm
Hastings Community Centre - 3096 E. Hastings St.
For the past decade, we've been able to share the true meaning of the celebration of life that is the Day of the Dead with Vancouverites. This year is no exception, Hastings Community Centre (across from the Playland) opens its doors to host our yearly Community Ofrenda.

This is a free-admission, all-ages event, suitable for the entire family. We'll be setting up a traditional ofrenda, or altar, where you'll be invited to remember your loved ones who have passed. My dear friend, Leonor Martinez, from the Sierra Mazateca region of Oaxaca, will be doing a special presentation about the culture and traditions of her ancestors, and of how the Day, and Night of the Dead are celebrated in Oaxaca. We will be serving our traditional, hand-made Pan de Muerto by the slice, and Mexican Hot Chocolate ($8.00 for both).

Whole loaves will be available only if pre-ordered - info@culinaryencanto.com

We invite you to be part of the celebration! Please bring a print-out of a photo of your loved ones who have passed (no framed pictures, and no originals - we wouldn't want anything to break or get damaged). Make sure your loved one is by him/herself in the picture, with no living relatives in the image. We'll be placing them on the community ofrenda to honour their memory. If you don't have an image you can bring, we'll have pencils and paper to write their names.

In this era, where traditions are blurred and often misrepresented and commercialized, it is very important for us to keep alive the significance of this ancient celebration.

CLICK HERE TO REGISTER

Or send us an email: info@culinaryencanto.com
PROGRAM
5:00 Doors Open
5:15 Welcome, Introduction by Rossana Ascencio
5:30 Day of the Dead Culture and traditions of Oaxaca's Sierra Mazateca by Leonor Martinez
6:15 "Convivio" - Pan de Muerto & Mexican Hot Chocolate served. We visit the altar, and honour our loved ones.

6:30 Q&A - We'll be available to answer your questions about the Day of the Dead

7:00 Hasta Pronto! See you Next Year!
7:15 Doors closed