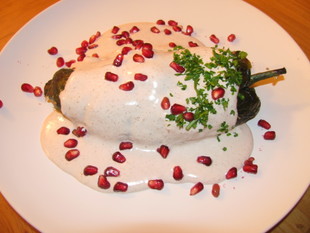 It has been a while since my last post, and once again, it is a mayor celebration that brings me to this page, today, we celebrate Mexico's Independence. To be more precise, September 16 marks the anniversary of the "Grito de Dolores" - The "cry for Independence' that Father Miguel Hidalgo y Costilla gave in 1810 in town of Dolores.
But it was not until 1821, when the triumphant Agustin de Iturbide signed the Treaties of Cordoba to officially claim Mexico's independence from Spain. And it is to this event, and not the midnight cry a decade earlier, that is linked to "Chiles en Nogada".
One of the most celebrated versions of how they came to exist, claims that it was the nuns from the Saint Augustine convent in Puebla, who created this wonderful dish. They knew that Agustin de Iturbide and his "Three Guarantees" army were marching into Mexico city, and they decided to honour him and his troops with a special dish, one that would incorporate the colours of the flag - green, red and white. And so, the green from the poblano chiles, the white from the walnut sauce, or "nogada", and the red from the vibrant pomegranate seeds adorning the plate.
But there is so much more about the flavours and the ingredients beyond the emblematic colours - they truly represent the coming together of two worlds, two cultures, in one dish.
Like with many other great dishes, there are a few variations of the recipe. Some like to dip the chiles in an egg batter and pan fry them, some like to showcase their beautiful green colour. I prefer the latter, celebrating the national colours in every bite.
Chiles en Nogada - serves 4

4 Poblano Chiles, roasted, peeled, core removed
1 pound ground beef
1/2 pound ground pork
1 apple - small dice
1 pear - small dice
1 plantain - small dice
1 peach - small dice
1/4 onion - small dice
2 garlic cloves - minced
salt & pepper
1/4 cup Sherry
1/2 cup pomegranate seeds
parsley for garnish
NOGADA
2 cups walnuts - blanched
1/4 cup goat cheese
1/2 cup milk
1. In an oiled pan, over medium heat, cook the onion until translucent. Add the garlic and continue to to cook without browning
2. Add the meats, season with salt, cook, lightly browning the meat
3. Add the sherry
4. Continue to cook and incorporate the fruits
5. Reduce the heat to a simmer and cook for 10-15 minutes
6. Adjust seasoning
7. Using a paring knife, make an opening lengthwise in each chile Poblano
8. Fill with the meat and fruit mixture
Nogada
1. Place all ingredients in a blender and puree to a smooth consistency
2. If too coarse, pass through a sieve. Consistency should not be too runny, it has to be creamy enough to cover the stuffed chile
Plate the stuffed Poblano covered with the Nogada, garnish with pomegranate seeds and parsley.